On Saturday, September 24th, animation historian John Canemaker sat down with animator Richard Williams to discuss the Museum of Modern Art's new release of his classic film, The Thief and the Cobbler: A Moment in Time. An animated masterpiece that was started in 1964, worked on for decades, it was never really finished and had to be re-jiggered into a film in 1992. The Thief and the Cobbler was finally restored and preserved by the Academy of Motion Picture Arts and Science's Film Academy Archive in 2016. In a vast ocean of potential artistic masters, "Richard Williams is now himself a tasty lobster…" NYU Professor Canemaker declared, in a classically original and complicated metaphor.
During the conversation, the 83-year-old Richard Williams grew livelier and started to relate all sorts of different stories from his long life and career. When Richard Williams was just 15 years old, he saved up enough money to take a bus from his hometown of Toronto, to California, a long five-day trip. Three times he went on tour of the Disney Studios, where he tried to ditch the guides and talk to the animators. Eventually he succeeded and was kicked out of the lot! Tall tales are sure to grow around such a master of animation… He was kicked out of Disney three times, a hundred times!
Williams' mother Kathleen was also an illustrator. Williams credits her for his artistic drive: "You did this to me, Mom!" "Rubbish," she replied, "you saw Snow White at 5 years old and were never the same again." In fact, Walt Disney had some interest in working with Kathleen herself as an artist. In 1948, 15 year-old Williams had dinner with someone working at Disney, and they in turn told his story to Disney's press manager. This led to some initial advertising work at the studio and bolstered his career as an animator.
"I knew so much of everybody, because I was a ferret." Williams boasted. During this time he met Ronald Reagan (as an actor!) and Ward Kimball (Disney). But he "wasn't interested in Walt Disney, you see, because he didn't draw." Williams was so caught up in the magic of animation that he forgot he met Bing Crosby! He only remembered years later when his brother showed Williams their hand-written correspondence from those days.
Williams loves Western-themed movies because they always have a long fade to sunset. He reminisced about how Bambi inspired him to invent new transitions. 'The only way to develop new 2-frame-dissolves was to get the camera-man…' and here Williams started to act out his story, 'to step on the chair,' *multiple gasps from the audience* 'and shoot dissolves to cover the bad work…The Simpsons tried an episode like that, but they got it all wrong.' After Canemaker managed to get Williams back on safe ground (to the relief of the audience), they continued to talk about dissolves and x-sheets, twiddling their fingers in their air as they counted imaginary frames. It was a conversation that would look like two magicians casting spells, in the eyes of young animators who might have never used an x-sheet.
Williams had never read A Christmas Carol when he started directing the 1971 animated adaptation for ABC . The client originally wanted the film to be animated in full crosshatch style, just like William's The Charge of the Light Brigade (1968). In that film, every scene was shaded to look like old political cartoon engravings, but it was an intensive process to ink all the lines. When it was completed, Williams showed it to one of his various animation mentors, who drawled that the animation was terrible, and he was only interested in seeing how the cross-hatching had turned out (nicely). In A Christmas Carol, Williams talked ABC down to just pencil and no ink, in order to fit the 9-month production schedule. Executive Producer Chuck Jones (Looney Tunes) wanted two things: "the rooftops of London, and Jingle Bells." "I managed to not do Jingle Bells," Williams said wryly.
In 1975 Williams completed the opening animation for The Return of the Pink Panther. He was taking a chance on purely physical comedy and dance, as opposed to dialogue driven comedy. He showed his work to director Blake Edwards and asked for notes, but he never got any. When Williams asked why, Edwards retorted: "Do you want changes? That's the way I work and that's the way YOU'LL work, and we've got a hit!"
Richard Williams has met many masters of animation from all over history, and he has great fun bringing them to life in dramatic re-enactments. Art Babbitt (Disney) told Williams that he was "doing an honest job, but you really don't know what you're doing." Babbitt then came to Richard Williams Studio in London in 1973 and started to give lectures; he discussed techniques such as 'breaking the joints' and here Williams demonstrated how animated arm movements can be separated into specific joint movements with a flick of his wrist. All of these classes provided the foundation for Williams' eventual educational opus, The Animator's Survival Kit.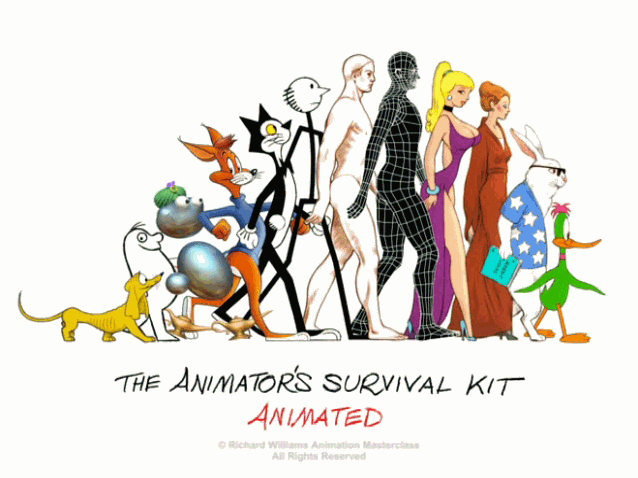 When Williams met Milt Kahl (Disney), he fell to his feet and started shining Kahl's shoes. Kahl loomed over him and commanded: "You can stop shining my shoes because you draw better than me. On the other hand, you can keep shining my shoes because you can't animate for shit." Kahl told Williams the secret of how he animated Shere Kahn in The Jungle Book. Williams wanted to know how the tiger looked like it was 700lbs, and proceeded to get up and stalk the stage… the drawings start with the (ground) contact poses first… then just the point of contact… Williams creeps…then the Up leg, then the Down leg… "That way it's simple!"
Years later, Ken Harris (Warner Brothers) finally told Richard Williams (now 40 years old), "Dick, you're starting to draw those things in the right place." Two years later he said, "Dick, you could be a good animator." Williams is great at imitating his mentors, and at one point recalled lashing out to someone, "I've had twenty years of drinking your blood, and I'm never going to get it!"
Prologue, Richard William's latest 2015 animated film, is just part one of his adaptation of Aristophanes' Greek play Lysisrata (411 BC), in which the women of a Greek village 'withhold their marital duties' in an effort to end a terrible war between Sparta and Athens. With the working title of "Will I Live to Finish This?" we see a continuous shot of both beauty and violence. Bees delicately pollinate flowers while a battle of two on two men rages like a mini-coliseum in a field. The action ranges from violent to sexy to funny to lyrical. Each warrior is unique in their arms, but bound together by their realistic expressive faces that still squash, stretch, and overlap like the best of Disney. "I wanted the whole ball of wax!" Williams said, about his ability to animate and draw and be realistic visually and in movement. Prologue was shot on one level, one piece of paper, so the background is redrawn constantly as the 'camera' roves over it. "It's like yogurt," Williams pantomimed, "it just comes together like squish!"
Today, Richard Williams rents out a nice corner office in the studios of Aardman Animations, where he has been for the last 8 years. He works on his film, "going like a snail," and doesn't really want to depend on his friends or cameraman for help. Williams enjoys a nice 7-hour work day, with a side entrance that enables him to talk to no one. (One could say that while Williams has had many mentors and role models himself, he does not believe there are any animators skilled enough to help him finish his film today, with the exception possibly of an un-credited person who worked on the butterfly in the opening scene). Before Prologue's Oscar nomination, no one really bothered him, or sometimes even knew who he was, but not so today. He gets questions and comments all the time, including from 'Silicon Valley Tech Gurus' who always want to know what software he has been using for his work. Williams tell them it's the "3B System:" a piece of a paper and a 3B pencil.
Williams wanted us to personally know that the stuff he is working on now does not look like Prologue (but it is, from what I can gather, a 20 second comedy scene of a woman talking that is part of the same story). He relishes the dialogue of a woman, hinting that her sexiness is new and realistic (beyond Jessica Rabbit). He says he has discovered a new way to edit. Williams despises the typical soap-opera over-the-shoulder cutting back and forth in a conversation, and he is promising something new. It works, because it is "completely illogical." In light of this extraordinary statement (and after seeing the 180 degree rule recently broken on Showtime or whatever) I'm just going to guess that he will create something theatre-in-the-round or elaborately choreographed (in a single panning camera shot). Whether or not it will be a new technique, or a coherent one, is anybody's guess.
If you wanted to know how Richard Williams works, sit tight. He doesn't listen to a radio while animating. He doesn't use storyboards, but will maybe create a sequence of thumbnails. He just does the rough pencil drawing 'in the right place.' Williams also doesn't really test his work, but when he does, he can finally exclaim "Yes!" in triumph after years of listening to 'old guys.' He is "artistically greedy." Williams is glad to review his work, and while he wishes that he wasn't so old, he recognizes his talent could not have happened earlier.
Richard Williams is an inspirational man to see live. He loves Droopy and does a great impression. He loves his wife Imogene, who produced his last film. He learned to love art and painting in Ibiza with Rembrandt. And he returned to school at the age of 60. If Williams was working on The Thief and the Cobbler today, would he use a computer? No. He doesn't even have a smart phone. He's best friends with John Canemaker, because Canemaker just got him 'some special paper he needs.' And his enthusiastic advice to all animators young and old is, "TO PERSIST!"
Here's one last story. Frank Thomas (Disney) had always criticized Richard Williams for not doing 'emotional cuddling up' scenes. During production of Who Framed Roger Rabbit, Williams kept a letter from Thomas in his pocket, saying how if he pulled this off he would be a big hero. So finally in 1988, Williams called up Thomas to tell him all about the premiere screening, and how all the kids in the audience were shouting at the end (spoilers) "Noo! Don't put the rabbit in the barrel!!!" Richard Williams stopped breathlessly for the praise he had spent years waiting for. "Well," Frank Thomas said, "I wish they had!"
ASIFA East is grateful for the Museum of Moving Image for putting together such an educational event. And we encourage you to submit to our upcoming animation film festival, accepting submissions Jan 3rd – Feb 5th. Till next time!
PS – Join us for our post-holiday animation networking party!